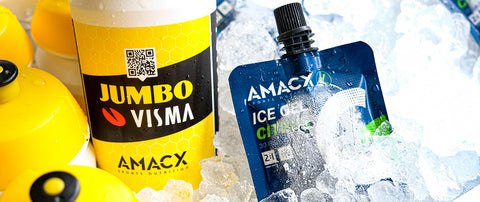 Experience the icy coolness within: an advanced energy gel
Introducing an innovative, frosty energy gel that ensures a refreshing experience like no other! Packed with 30 grams of rapidly absorbed energy through a balanced 2:1 glucose-to-fructose carb blend, this convenient gel comes in a compact ice gel with a twist cap so that you get slush gel inside. What sets it apart is its remarkable ability to cool you from the inside out. Enriched with 200mg of sodium.
The Ice Gel can be used as Ice Gel or the normal Drink Gel! Whether you take it as slush ice or normal gel we got you covered.
What is an ice gel?
The Amacx Ice Gel is no ordinary energy gel, because in addition to energy in the form of quickly absorbable carbohydrates, the Ice Gel also offers cooling for the body. During intense exercise, especially in hot conditions, the core body temperature can rise sharply, which will reduce performance. With this frozen energy source, which is identical in composition to the Amacx Drink Gel, you cool the body from the inside out. This not only provides a refreshing feeling, but also better maintenance of core temperature and therefore performance in the heat.
Frozen gel providing internal cooling
30g carbohydrates
2:1 carbohydrate ratio
200 mg sodium
Easy to use, use as slush ice gel or use as a normal gel.
How to use
You use the Ice Gel during exercise to cool down your body internally. For this you must first put the gel in the freezer so that it can freeze properly. After the gel has frozen you can use it as a Slush Gel after 10-20 minutes. Depending on the outside temperature.

Suggested Use: Take 1-3 gels per hour of exercise. Use depends on personal carbohydrate needs and/or how much you want to cool your body from the inside out.